Higher Ed
Global Datebooks works with hundreds of universities and colleges across the United States, providing them with the highest-quality student planners at an affordable price.
Each college is unique with its own set of needs, requirements, and specifications. For this reason, we offer a variety of sizes, a plethora of enhancement options, and dedicated one-on-one customer support to assist our clients with their planner projects.
From cover to cover, our planners are fully customizable. Our team will work with you to go over all of the available options, and provide you an exact quote that fits your student's needs.
Global Datebooks can produce your custom planner in any size. Our most popular sizes are below.
If you have any questions give us a call at 866-399-3201 or request to see samples by clicking on Request Samples option.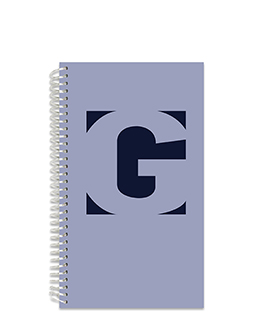 5" X 8"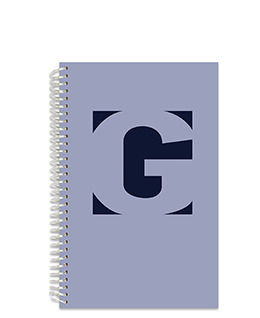 5.5" X 8.5"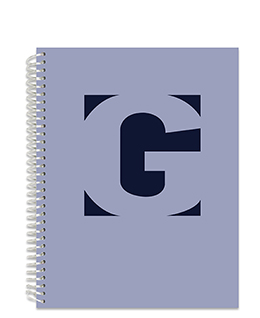 7" X 9"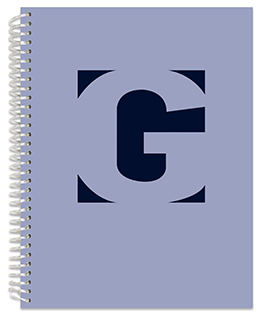 8.5" X 11"
Materials, Finishing and Design
Global Datebooks offers a variety of high-quality cover materials and beautiful finishing options, as well as cover design service.
Materials
15 PT.
Made of thick, coated, cover-weight paper, our 15 PT. cover is our most popular option and can be finished with any of the finishing options noted below.
Poly Cover
Poly is the most durable cover material Global Datebooks offers. Since it is plastic, it will never tear. The drawback to such extreme durability is the print quality is usually not as sharp as coated paper covers, and it can not use any of the finishing options.
Frosted Poly Cover - Non-Printed
Our frosted poly covers are translucent, allowing you to add a thinner secondary cover with brilliant printing underneath
Finishing
Plastic Film Lamination - Available in Gloss or Matte Finish
Lamination provides a thick, smooth protective layer that is scratch and moisture resistant. The gloss finish gives the cover a bright and shiny look, while the matte finish is softer and understated.
Gloss UV Coating
UV coating is perfect for those who need fantastic printing clarity with high gloss. Although not as thick as our poly lamination, UV is much more flexible.
Spot Gloss UV Coating
Same as the above gloss UV coating, but it is only applied to certain areas of your cover. When used in conjunction with matte film lamination, spot gloss UV can be applied to text, pictures, or your school's logo to really make them pop!
Metallic Foil Stamping
If you're looking for a more unique way to add life to your cover, metallic foil is a great option. Similar to spot gloss UV coating, foil can be applied to text, graphics, or your school's logo, and it is available in many colors.
Cover Design
Send us your own cover design or request that one of our excellent in-house designers will create a complimentary cover.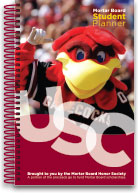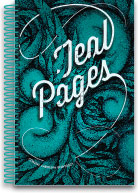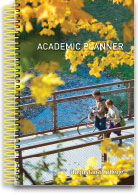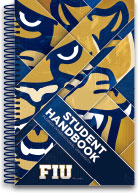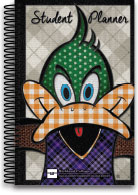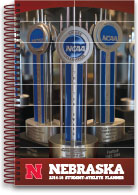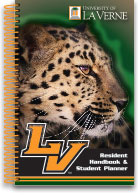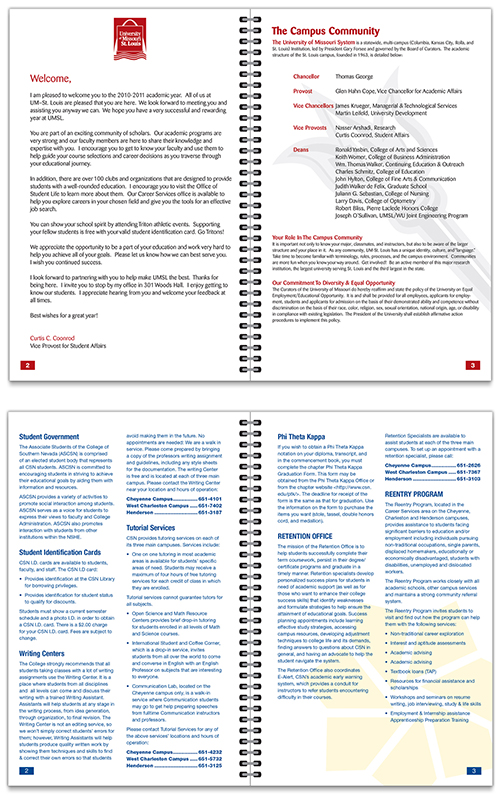 Your school's handbook section can be comprised of any information and as many pages as you need. Examples of common information included in the handbook section are:
School Policies

Student Organization Info

Phone Numbers / Campus Directory

Campus Maps

Academic Calendars

Sports Schedules

Advertisements

Anything Else You Need to Communicate to Your Student Body!
We accept handbook files as PDF, Word, or Adobe InDesign documents. Your customer service representative can send you instructions for how to set up your Word document, and templates if you're using InDesign.
Calendar pages help to build confidence. Students can write down their assignments, plus easily reference important dates and events throughout the school year. Global Datebooks can incorporate campus events, academic calendars, and holidays throughout your student planner calendar pages to keep your students organized and aware.
Pick Your Calendar Design
Below are examples of weekly and monthly calendar designs. Matching number codes are designed to go with each other (for example, CW01 and CM01 are the same style), however you can choose the combinationof layouts you like best.
Global Datebooks Will Customize Your Calendar
After you decide on a design layout, we will fully customize the pages with your school logos and colors.
Need fully customizable planners?
Global Datebooks custom student planners have 2 different binding options in a variety of colors.
Plastic Spiral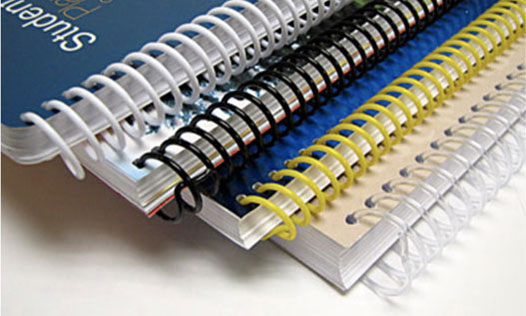 Wire-O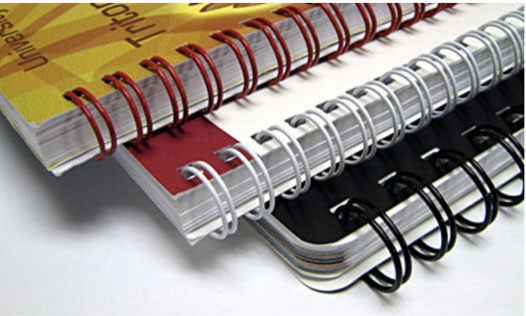 Global Datebooks has already done the research to provide students with resource pages loaded with regularly utilized information on a wide array of topics including science, math, and writing as well as goal setting, career planning, and the transition to college life.
You can add resource pages to your student planner at no extra cost outside of the normal rates for additional pages.
Available resource pages:
Higher Education Resource Pages
COLLEGE SUCCESS TIPS
Transition to College Life

Tips for Success in College

Choosing a Major

Career Planning

Financial Planning

Goal Planning

Study Skills

Health & Wellness

Facts About Drug & Alcohol Abuse

Go Green – Recycling and Conservation Tips

Class Schedule
SOCIAL STUDIES
Presidents of the United States

Branches of Government

Bill of Rights
GEOGRAPHY
U.S. State Capitals and Abbreviations

U.S. Map

World Map
ENGLISH
Eight Parts of Speech

Punctuation

Rules of Capitalization and Pluralization

Tips for Spelling

Commonly Misspelled Words

Writing Essays

MLA Guidelines

APA Guidelines
MATH
Polynomials / Table of Formulas

Angles / Polygons / Solids
SCIENCE
Solar System

Periodic Table of Elements

Tables of Customary Measurement

Conversions
GENERAL
Inspirational Quotes

3-Year-at-a-Glance Calendar

1-Year-at-a-Glance Calendar

Personal Contact Directory

Notes Pages
"Thanks so much for all of your help throughout the process! I'm loving the fact that the page markers are already in the books, which saves us a BUNCH of time that we used to spend opening boxes and putting them into each book. I've been super impressed by the process and quality that we've seen from Global. We appreciate you!"

— D.M - Lone Star
The Student Planner enhancements options from Global Datebooks are designed to make your planners even more useful to the students. Just like the planners themselves, our enhancement options are totally customizable.
Custom Cover
Choose one of our pre-designed imprint covers and add your school name and/or logo, or you can submit your own cover design.
Handbook Pages
Add your policies, important numbers, or any other information you would like to include in your planner by adding handbook pages. They are sold in multiples of 2 (front and back=1 sheet) standard text 1 color customer choice of color. Two color and Full Color available for an additional charge.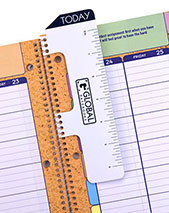 Bookmark
Our Bookmark is a fantastic way for students to mark their progress through the school year. It can be custom printed with your school's logo and anything else you'd like to include.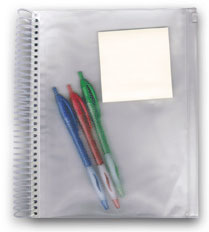 Zipper Pouch
Students can safely store pens, pencils, and important papers. Easy to locate anytime they are needed!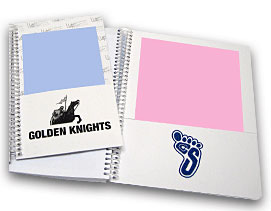 Pocket Folder
A great place for students to store homework assignments, notes, and other essential papers.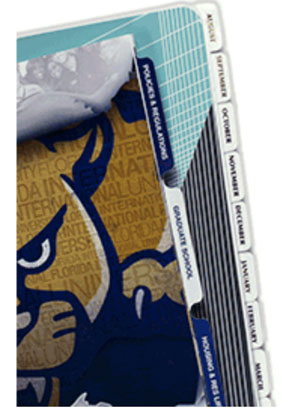 Die-Cut Tabs
Our Die-Cut Tabs provide a quick way to navigate your handbook and calendar section.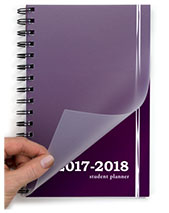 Frosted Poly Covers (Front & Back)
Our frosted poly covers add an additional layer of protection to keep your planner looking great for the entire year.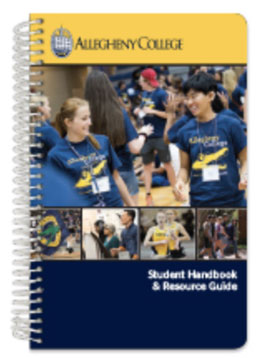 Rounded Corners
Rounding your planner corners helps to prevent damage to them, and gives your planner a different look. You can round the outside two, or all four corners. Planners come with square corners standard.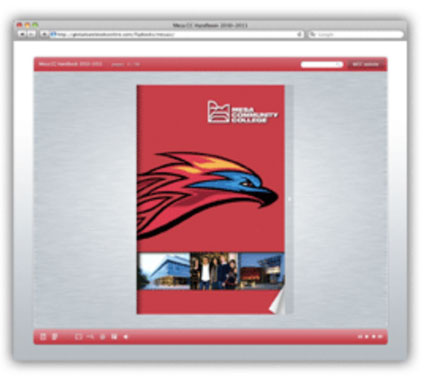 Digital Flipbook
Global Datebooks can create a digital flipbook copy of your student planner. We will provide you with a link to your flipbook that can be posted on your website, or sent to students via email or social media sites.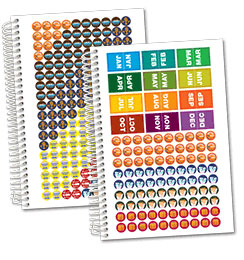 Planning Stickers
Stickers make it easy and fun for students to mark important dates: Quiz, Study, Game, Project Due Date, Mid Term, plus more!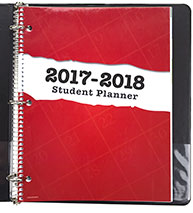 Hole Punch
Hole Punches can be added to your planners so they will fit into a standard 3-Ring Binder. (8.5x11 planners get 3 holes, 7x9 and smaller planners get 2 holes)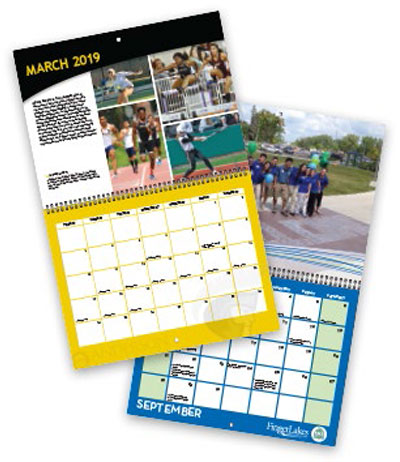 Wall Calendar
A great companion to your planners, our wall calendars can contain the same information as the planners, including holidays and school events.
Wall calendars are a perfect way to give parents and school staff the same information students receive in their planners, and make a great addition to any wall!
They are also a great item to sell in your campus bookstore.
Available Planner Size: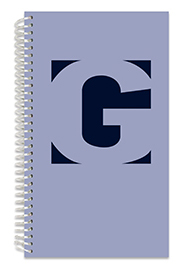 5" X 8"
The Collegiate planner is a perfect solution for customers that need an economical alternative.

Calendar Pages
Our Collegiate planner includes 13 months – 2 page weekly and monthly spread from July to July, plus 13 monthly divider tabs and a bookmark ruler.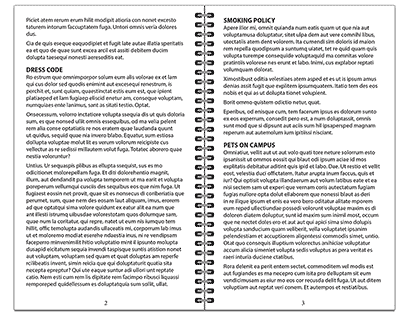 Handbook Pages
Add your policies, bell schedules, or any other information you would like to include in your planner by adding handbook pages. They are sold in multiples of 2 (front and back=1 sheet) standard text color is black and white or full color for an additional charge.
Resource Pages
Global Datebooks has already done the research to provide students with resource pages loaded with regularly-utilized information on a wide array of topics including science, math, and writing, as well as goal setting, career planning, and the transition to college life.
Resource pages can be affordably added for the same price as handbook pages.
Higher Education Resource Pages
COLLEGE SUCCESS TIPS
Transition to College Life

Tips for Success in College

Choosing a Major

Career Planning

Financial Planning

Goal Planning

Study Skills

Health & Wellness

Facts About Drug & Alcohol Abuse

Go Green – Recycling and Conservation Tips

Class Schedule
SOCIAL STUDIES
Presidents of the United States

Branches of Government

Bill of Rights
GEOGRAPHY
U.S. State Capitals and Abbreviations

U.S. Map

World Map
ENGLISH
Eight Parts of Speech

Punctuation

Rules of Capitalization and Pluralization

Tips for Spelling

Commonly Misspelled Words

Writing Essays

MLA Guidelines

APA Guidelines
MATH
Polynomials / Table of Formulas

Angles / Polygons / Solids
SCIENCE
Solar System

Periodic Table of Elements

Tables of Customary Measurement

Conversions